About this guide
I use (or have used) and vouch for everything on this list. Yes, there are a lot of Amazon affiliate links here so I can get some kickbacks, but this guide isn't a "let's make money" play. First and foremost, I only recommend good stuff I've actually used that I think will make good gifts. I'm gifting some things on this list this year, too. The added benefit of most things being on Amazon is that you'll get it before Christmas. Some things aren't on Amazon if I couldn't find them there.
Everything is under $40. You can pick up multiple items from this list for under $50 in total.
Want more ideas? Check out my 2016 guide. My friends Marieke and Brent wrote one, too. There isn't much overlap.
Yeah, I did take the photo of the sheep. It lives at Thunderhill Farm in Stanfordville, NY.
Salt containers are essential in the kitchen. You use salt on almost everything, so you need to keep a lot of it close at hand and access it quickly. This one allows you to keep three different kinds of salt. I keep mine stocked with kosher salt on the bottom, Himalayan in the middle, and smoked on the top. $22 at time of writing.
If you are getting someone a salt container, get them some salt to fill it with. Here is a nice set of four salts from around the world, $14. Here is my everyday use Kosher flake salt, $3.
Microplanes are one of those things that you didn't know you needed until you start using it. We use ours for zesting citrus, grating hard cheeses, and grating nutmeg over our holiday eggnog. Get one without a handle so it is easier to clean. $8 at time of writing. Pick up a pack of whole nutmeg to go with it, $6.
A pizza peel is not 100% necessary for making pizza at home, but it sure does make the process easier. Great for making bread, too. If your gift receiver doesn't have a lot of space, no worries. I hang this on a small wall in my kitchen next to the fridge. Stays out of the way and doubles as art. $17 at time of writing. Toss in a bag of semolina to make the oven transfer easier and a stick of good pepperoni for a topping.
For pan frying, sauteing, and roasting, the olive oil you use doesn't make a huge difference. The big tin you keep under the sink works. When you get it hot enough to smoke, you lose most of the nuance anyway. But for applications where you'll taste the oil like dipping, topping, salad dressings, etc, you want something that tastes great on its own. This Frankies 457 is one of my go-tos. $36 for 33oz, $20 for 17oz. The This Marcella Hazan cookbook makes a good companion gift.
I use my mortar and pestle every time I make pesto, guacamole, and grind spices. It has a large capacity and is easy to clean. Make sure to tell them to season it first. $37 at time of writing.
One Bottle Cocktail is my favorite cocktail book released this year. I've already gifted it to three people. Each recipe only takes one spirit and gets most of the flavor from fresh fruit and herbs. Everything we've drank from it has been delicious. $17 at time of writing. Pick up a decent bottle of whisky, gin, or vodka to go along with it (aim for the $25 range or ask for help if you don't know much about liquor.)
Now that the weather is cold, a travel mug is a must. Our favorite in the Grimmett House is this S'well mug. It keeps our coffee hot for a long time, doesn't drip in our bags, and is easy to clean. Amanda has the white one, I have the grey one. Skip the cutsy illustrations unless you KNOW the person you are buying for will like it. Simple is better. $25 at time of writing.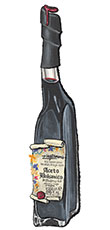 Balsamic vinegar is another one of those things that doesn't matter that much when you are cooking with it. But when you are tasting it in a salad dressing, drizzled over a dessert, or drizzled on a caprese salad, you want something that stands on its own. This Vecchia Dispensa 8 year is a great vinegar for that purpose. $25 from Zingerman's.
The classic French knife maker Opinel makes this cool knife with a corkscrew in it that is perfect for a picnic kit. The knife cuts cheese, charcuterie and fruit, the corkscrew opens the bottle of wine. The blade locks by twisting the silver neck ring. $29 at time of writing. Add a bottle of wine, some charcuterie, or a picnic blanket to complete the ensemble.
Yesplz is a new coffee startup from the folks who brought you Tonx back in the day, which eventually sold to Blue Bottle and became the Blue Bottle At Home service. They are back with a mission to make great subscription coffee afforable again and this time they are focusing on blends. I backed it on Kickstarter and I loved the first two batches I received so far. You can get 2 deliveries for $28, which is more than enough for someone to decide whether or not they want to keep it going. Each delivery comes with an awesome magazine, too. Find a cool mug to go with it, or get the travel mug above.
I store my coffee beans in this Airscape canister. It has two lids: One pushes out all the air and the other covers the top. Gotta keep the coffee as fresh as possible, and putting it in the freezer is a terrible idea. Get your friends this canister instead. $28 at time of writing. You might be able to find it cheaper at your local Container Store, which is where I got mine. Pick up a pound of locally roasted coffee to go with it.
I literally haven't taken my big blender out of the cabinet in a year and a half. I use this stick blender at least once a week, though. Perfect for soups, making mayonnaise, salad dressings, bulletproof coffee, eggnog, and sauces of all sorts. Everyone needs one of these. It comes with a measuring cup that I use it with 75% of the time. $29 at time of writing.
No one likes splattering oil or tomato sauce on their shirt. I use this coat from Chef Works when I cook. It is cool and breathable and has a pocket for your thermometer. $32 at tine of writing. Chef Works has a ton of styles for both men and women if you don't like this one.